DUNGEON DEFENDERS GIVEAWAY (CLOSED)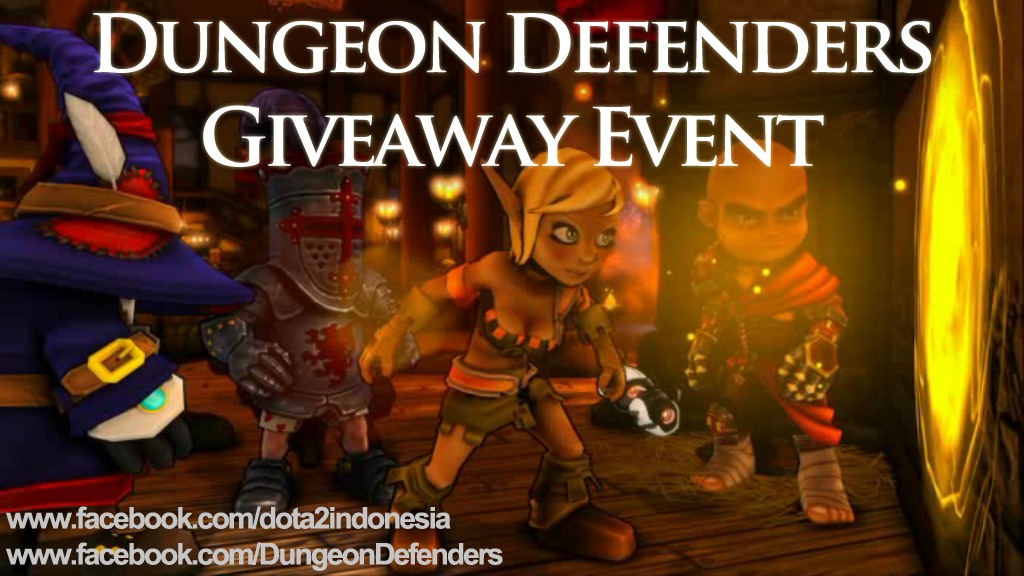 In a co-operation with Trendy Entertainment , we make a giveaway event to get 5x Dungeon Defenders Keys for lucky winners & The Ship Keys (as bonus for who still don't have it).
If you still don't understand about Dungeon Defenders please visit this link:
http://store.steampo...?snr=1_7_15__13
if you want find more info about Trendy Entertainment please visit:
http://www.trendyent.com/
Please read rules below if you want participate in our giveaway:
1. Share this thread to your friends via facebook, twitter, etc.
2. Harus punya akun steam berumur lebih dari satu bulan (bukan akun steam ganda)
3. Harus punya dota 2 di akun steam & sudah bermain lebih dari 30 jam
4. Bagi yang kedapatan akun fb kloningan yang ikut giveaway ini akan langsung diban
5. Must like Official Fanpage Dungeon Defenders (
http://www.facebook....ngeonDefenders/
)
6. Must like Official Fanpage Trendy Entertainment (
http://www.facebook....212767525406643
)
7. Must like Official Fanpage Blazing Griffin (
http://www.facebook....147716785300865
)
8. Only Indonesian People eligible to participate on our giveaway.
Setelah memenuhi persyaratan diatas diharapkan mengikuti langkah-langkah bawah ini untuk berpartisipasi dalam giveaway ini.
1. Jadi member dalam forum ini khusus bagi yang belum.
2. Ada dua metode untuk mendapatkan Dungeon Defenders yang bagi rekan-rekan mau berpartisipasi dalam giveaway ini.
PLEASE WAIT FOR NEXT ANNOUNCEMENT
Giveaway ini berakhir pada tanggal 04/03/2013 Pukul 17.00 WIB
Nanti para juri akan memilih 5 para pemenang yang berhak mendapat Dungeon Defenders Retail Key
Keputusan juri tidak bisa diganggu gugat & hasil pemenang giveaway setiap sesi memakai metode dari random.org untuk undiannya.